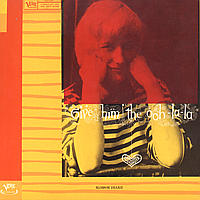 I'll climax my little
Verve Remixed 3
series with this smoking mix of Cole Porter's
Just One Of Those Things
, sung here by Blossom Dearie (from
Give Him the Ohh-La-La (Verve)
), and remixed by the
Brazilian Girls
, who have been surging in popularity.
Yeah, I'll just come out and say this version is red-hot. The bass line goes oh-so-low, and frames, rather than distracts, from Blossom's sultriness. The electronic effects are a sort of digital fountain of youth. You'll swear she's in her early twenties, that her voice was recorded with the music this year, rather than in 1957, and that she is supple and sassy, and dances and slithers as she sings.
Having said all that, the bass line in the original Blossom Dearie version will shake you no less.
And having posted those, why the hell not throw in another version by yet another Verve artist: the great Ella Fitzgerald.
Blossom Dearie - Just One Of Those Things (Brazilian Girls Remix) (mp3)
Blossom Dearie - Just One Of Those Things (mp3)
Ella Fitzgerald - Just One Of Those Things (mp3)