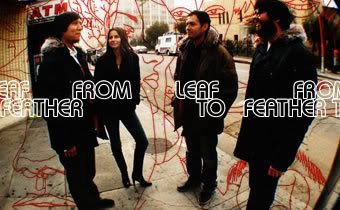 The singer is alone in a vast empty room. Her smoky voice, unwavering, drowns out the steady sound of cold rain tapping its way in as she waits for the sun to break through. And at two minutes, the determined jazz drum and vintage staccato keys give way to a break of sunlight, a bright melody, a steady pop beat, bright acoustic chords. The sun shines through the window, lights her face, and dissolves the melancholy in her eyes, albeit for a moment. The clouds return after the momentary break, and the beautiful young woman returns to waiting.
From Leaf To Feather
-
Albeit (mp3)
Themes on an Imaginary Winter
is out January 29th. Full review coming once I get my copy.