Delphine Desyeux unconvincingly sings of being a tigress. But you know what? Look at that photo down there. She can be whatever she wants to.
Delphine Desyeux - Je Suis la Tigresse (I'm a Tiger) (mp3)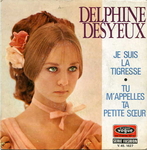 And Christine Pilzer, whose tone is less innocent, sings of Café Crème, because she just enjoys that warm milk in her coffee.
Christine Pilzer - Café Crème (mp3)
These songs and more are on the impressive
Swinging Mademoiselles: Groovy French Sounds from the 60s